Le Osterie italiane
Menu & Culinary
The history of the old Italian osterie



Dear guests and friends,

The tradition of the Italian OSTERIA has fascinated us for many years. We love to track down ancient recipes dating back to
the 14
th
/15
th
century and cook them for you with local ingredients. These dishes have been handed down
from generation to generation and are now known as "Cucina Povera".
Coast of Amalfi - Naples region
With our series "Le Osterie Italiane" we embark on a culinary journey through time, back to the 19
th
century.
On this journey we present you extraordinary dishes and wines from different regions of Italy.
Osteria Da Carmela - Napoli
We are pleased to present the special tradition and variety of tastes of the cuisine from the region of Napoli to you. This region has produced some dishes that are very popular around the world.
Enjoy a typical Campània menu
We wish you a lot of fun on your journey of discovery


Seppie ripiene all'ischitana su crema di Fave
e Pesto di Pinoli e Uva Sultanina con vin Cotto
Ischia-style stuffed cuttlefish with Fave bean sauce,
pesto of pine nuts and raisins with cooked must
Maccheroni con Salsiccia arrostita e crema
di Mozzarella di Bufala affumicata
Maccheroni with roasted Salsiccia
and cream of smoked buffalo milk Mozzarella
Orata con Pomodori San Marzano
e Paccheri Napoletani ripieni di crema di piselli Novelli
Salsa alla Falanghina e Zafferano
Oven-baked gilthead with San Marzano tomatoes
and Neapolitan Paccheri pasta filled with sugar pea puree
w
ith sauce of Falanghina wine and saffron
Pollo di Piume Nere al forno al Limone di Amalfi
Patate alle Erbe e tortino di Melanzane
Black feathered chicken with lemons from Amalfi
herb potatoes and eggplants timbale
Tortina di Formaggio di Capra con le Amarene
e Gelato al Limoncello
Tartlets with goat cheese and Amarena cherries
with limoncello ice cream
La Trattoria Campello sul Clitunno
Stuffed calamari on Rocket Salad
The next destination of our time travel is Napoletano. This area was under Spanish domination for almost 200 years and under the influence of French Bourbons. A series of dishes from this period can be traced back to court tradition or to the French school of inspiration, which was followed by a group of noble families, especially in the 19th century.
The pizza, the most famous creation of the entire Neapolitan cuisine, is an invention that goes back much further than the tomato era, it is even one of the oldest creation of all: a first type of pizza was made in the Roman era; it was a kind of flat bread made of wheat. But the actual pizza, bright red from tomatoes and cheerful like no other dish, is little more than two hundred years old. It soon became extremely popular with the lower people, but also with barons and princes: it dominated the receptions of the Bourbons, who were very fond of it.
The noodles were not invented in Napoli either, but here they were probably brought to the highest degree of perfection; and here they also found the way to dry and store them. This is how the industrial production of what is probably the most Italian food ever began.
The Campanian Apennines around Avellino became famous for sausages which are still based on traditional artisan processing, such as the Soppressata affumicata or the Salsiccia. Cheeses such as Provolone, Scamorza, Caciocavallo and Ricotta also influenced many recipes.
But the king of cheeses from this region is Mozzarella, the fresh, sweet and delicate product with buffalo milk filata dough. It enriches another dish that achieved world fame; the Insalata Caprese.
The cuisine of the islands of Capri and Ischia reflects the abundance of fish in the sea surrounding them; grilled shellfish of all kinds that preserve an intense taste of the sea, such as stuffed calamari.
And Ischia's delicious wines were already known and loved far beyond the borders in the 16th century.
Back to the last stage of our journey through time...
Cjalzons con Ricotta e lo Sclopit
The 8th stage of our journey through time takes us to a region with three very different geographical landscapes:
The mountainous landscape of Carnic Alps, the Friulian hills full of vineyards and the rugged karst, which, as if by a whim of nature, was the setting for the magnificent Gulf of Trieste.
During the Habsburg reign, Trieste was the most important maritime trading centre of Austria-Hungary, open to a wide variety of influences. For centuries, different cultures also shaped the cuisine of Trieste, which differs greatly from the cooking habits of the Northern region.
A few simple ingredients were sufficient for the traditional Friulian cuisine.
The most important and often only food was polenta. It was often enriched with cheese, especially Montasio, produced by the farmers themselves.
The frico friulano, a simple dish made from leftover cheese crusts, which was melted in a small pan on the stove, originates from the poor peasant culture. And potatoes.
Only on holidays Cjalzons enriched the festive table of the Friulans. The large dumplings filled with ricotta, herbs and oriental spices had a special tradition in every family.
Meat-based dishes, on the other hand, were not very present. The dairy cows were mainly used for the production of cheese. Pork was preserved by drying. The famous hams of San Daniele and Sauris were originally made from the legs of black pigs, the nera friulana. After salting, the legs were slowly smoked on beech wood with juniper and other fragrant berries and dried in the air.
For desserts the farmers used rice, which they cooked in sugared milk. Enriched with various spices it became a cake as simple as it was delicious.
Those who had enough could treat themselves to a glass of grappa. The origins of grappa and the tradition of distilling grape combs after pressing are ancient in Friuli.
Saltimbocca di Quaglie e San Daniele
su Polentina calda al Montasio
Quail saltimbocca with San Daniele ham
on warm white polenta with mountain cottage cheese
Ravioli di Zucca alla Friulana con Burro bruno e Pinoli
Friulian pumpkin ravioli
with brown butter and pine nuts
Scampi alla Cardinale
con Risotto allo Zafferano arrostito

Scampi in white wine, herbs and tomatoes
on baked saffron risotto
Fegato di Vitello su Crema di Cipolle Bianche

e Mele Caramellizzate
Veal liver on cream of white onions
Torta Veneta al Riso con crema di Pesche

e Gelato alla Grappa
Venetian rice cake with peach cream
and grappa ice cream
Osteria Da Alvise Sutrio Udine
Stella D'Oro Verzegnis Udine
Osterial Stella D'Oro Verzegnis Udine
Tegamaccio con Bruschetta all'Origano
Our next stop is located in the heart of Italy. Umbria is the only region that has no sea coast. Being mostly mountainous and rich in woodlands, it was once inhabited by Etruscans and Romans. These cultures influenced its agriculture and the Umbrian cuisine.

Cultivated were, for instance, various legumes and cereals, among them the ancient emmer wheat. Noted are also the small Castelluccio lentils that are used as ingredient for numerous dishes. Even Umbria's rich variety in flat breads - so-called focacce and schiacciate - dates back all the way to the Roman era. And the Etruscan art of cheese making produced the ewe's cheese varieties Caciotta and Pecorino that still exist today.
The fall of the Roman Empire (476 n. Chr.) was followed by the reign of the Franks and the Lombards who left their marks in crafts. The tradition of the norcini, who were specialized in salting and aging pork offal, dates back to these days. Also the making of minced-meat sausage (Salume) is based on this handicraft.
Therefore, Norcia, a small town in the mountains, is considered Umbria's covert gourmet center. It is well-known for its ham made from the meat of small black pigs that are being fed chestnuts and acorns, and for its black truffles.
Another traditional specialty from Perugia is porchetta perugina, the region's hot-seasoned suckling pig-dish.
However, you will also find snipes, partridges, pheasants, quails, hares, and pigeons, hunted in the wild and roast on a spit, on the menu. The same applies to Tegamaccio, a soup made from local freshwater fish.
Maialino arrostito con erbe in Porchetta
su insalata di lenticchie di Castelluccio e Patate
Roast suckling pig in herbs
served with a salad of
Castelluccio lentils and potatoes
Zuppa di Pesce piccante con Bruschetta all'Origano
Savory fish soup served with oregano-bruschetta
Ragú di Cinghiale al vino rosso
e gnocchetti di ceci
Wild boar ragout stewed in red wine
served with chickpea
gnocchetti
Torta della Nonna con Pinoli
Grandma's cake with pine nuts
La Trattoria Campello sul Clitunno
Ristorante Dei Priori - Norcia
Coscia di Coniglio al forno
Just in time for the wonderful orange blossom we travel again all the way to the South of Italy. Sicilian cuisine, probably the oldest in Italy, dates back to ancient times.
In the time of the noble culture of Great Greece, which flourished in Sicily about four centuries before Christ.
Various influences gradually overlaid the Sicilian gastronomy. Peoples from the most distant regions, along with greed and conquest plans, also brought customs and ingredients, which were incorporated into the local traditions and merged with them without difficulty.
The taste of olives, salty ricotta, honey, fish, Homeric lamb from the grill and above all the wine remain untouched by Great Greece.
Dishes such as stuffed cuttlefish, onions baked in the oven and "maccu" date back to Roman times. Maccu is a puree made from broad beans boiled in water flavoured with aromatic herbs, mixed with crude oil and eaten with bread or noodles. For centuries, this simple dish was the most common food of the farmers and the "zolfatari" (workers in the sulphur mines), who took it with them to the fields or to the mines in the "quartara" or in a clay amphora.
The Arabian domination is the reason for dishes with a clearly oriental character. The "cuscusu", "cassata" and "cubbaita" come from this period. The same goes for the icy nectar, which the Arabs called "sciarba't" and which combined the snow fetched from Etna with fragrant essences of citrus fruits, fruit and blossoms. This is how the "sorbetto" was born.
From the time of Anjou and Aragonese dominations comes the popular "farsumagru", a rich veal roulade that was first called "rollo" and is the undisputed sovereignty of Sicilian meat dishes.
During the Spanish domination, after the return of Spanish conquistadores, the tomato and the eggplant became popular. These two vegetables of South American origin were used to conjure up dishes such as "caponata", still today one of the most characteristic and frequent dishes on the island.
The most famous chapter of Sicilian cuisine is that of the Barons. In the splendid residences of the 18th and 19th century Gattopardos, the tables have been characterised by extraordinary opulence and splendour.
Macco di Fave e Ricotta al Mascarpone
con Gamberoni arrostiti
Broad bean velouté with ricotta cheese and mascarpone
and roasted gambas
Spaghetti rustici con le Sarde, Peperoncino
e pesto al Prezzemolo
Rummo spaghetti with anchovies, chili
and parsley pesto
Coscia di Coniglio al forno su salsa al Marsala
Marmellata di Cipolle e Melanzane
Rabbit leg from the oven with Marsala sauce,
onion jam and aubergines
Tortina di Mandorle Tiepida
con Gelato al Caramello e sale di Trapani
with caramelised rice and Trapani salt

Osteria dei Sapori Perduti Modica
Osteria del Siciliano Nicolosi
Osteria le tre Bocche Catania
Ristorante Dei Priori - Norcia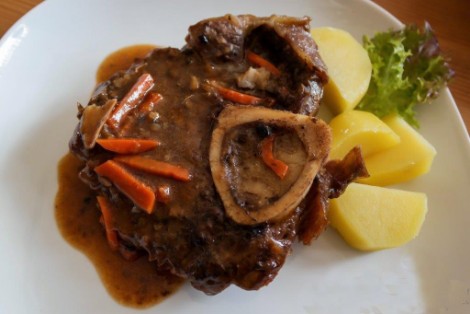 Ossobuco milanese con Patate allo Zafferano
Back in the north we go on our trip.
Lombardy's cuisine is marked by typical dishes from the mountain and lake areas, linked to the region's geography, its history and the traditions of neighbouring countries.

Lombardy's cuisine is famous for the great variety of its local products and it also reflects the economic wellbeing which its population has long enjoyed.
A signature dish of the region's cuisine is of course 'risotto' in dozens of versions, with vegetables, sausage, freshwater fish such as tench or river perch or even with frogs. Pavia is famous for its 'risotto alla certosina' based on a recipe originated by the monks, which includes ingredients such as shrimp, mushrooms and peas. One of the most widespread recipes in the region is 'risotto al salto', that is a version in which risotto Milan-style is divided into a series of small rice cakes and then fried in butter, served hot and crispy.
'Cassoeula' is a typical winter dish, highly nourishing and inexpensive, ideal for those who in the daytime don't have much time for eating and thus prefer dishes providing abundant energy. The same goes for 'zuppa lombarda' which is found in all menus.
We must also mention the typical dairy products of the area between the Alps and the Ticino River. There are many famous cheeses which merit separate mention.
Two typical desserts served on feast days also form part of this varied cuisine: the wintertime 'panettone', which is the traditional Christmas cake and a symbol of Milan, and the Easter Dove.
Foglioline di Vitello su crema di Tonno e Vinaigrette di Capperi
Veal slices on tuna sauce and capers vinaigrette
Risotto Aquarello al Radicchio e Bitto Storico con Petto di Pernice
Risotto of Acquerello rice with radicchio and the historic Bitto cheese
Ossobuco alla milanese con Patate allo Zafferano e Gremolada
Veal shank alla Milanese with saffron potatoes and gremolada
Zabaglione all'Amaretto di Saronno e Gelato alla Grappa

Zabaglione dessert with Amaretto di Saronno
and Grappa-flavoured ice-cream
Osterie:

Don Lisander Milano Teatro alla Scala
Il Vecchio Aratro Milano Turro
El Brellin Milano ai Navigli
Don Lisander Milano Teatro alla Scala
Filetto di Orata al Forno alla Tarantina
The next stage of our culinary time travel is in the very South. The simple cuisine of Apulia is working with varied and high-quality ingredients – and the philosophy of enjoyment was coined from the Greeks over 2500 years ago, when Apulia was part of Magna Graecia.
Concerning food Apulians remain connected to the simplicity and authenticity of rustic cuisine. The many focaccia and pizza variants also come from the shepherds.

The Apulian cuisine is perceived as the epitome of the famous Cucina mediterranea. This scenically and culinarily varied region with its local products has everything needed for a healthy and original diet.
The Italian granary is located in Apulia and the imaginative pasta variations of semolina are also produced here. Traditionally the pasta is also prepared with vegetables and herbs from which the sauce is then cooked.
Freshly caught fish and seafood are offered for every meal. Garlic, fennel and caraway give many dishes their special flavours.
Taranto, the centre of fish cuisine, benefits thanks to its location in a bay (mar Grande) and a lagoon bed (mar Piccolo) from two waters very rich in fish. Due to this wealth in fish Taranto is famous for its fish soups of seafood, dusky perch, scorpion fish, red mullet, crabs and small calamari.
The region around Brindisi is well known for its Figghjazza di ntròmise, a delicious vegetable soup and for Ghjumirieddi, tasty rolls with lamb guts from Ceglie Massapico. Also fried pork blood, Sangunazzu, is an Apulian speciality and a very special way of preparing meat is R'zzaute, where the meat is baked in a closed clay pot.
Spiedino di Muscoli su Crema di Fave e bruschettina all'aglio
Mussel skewer on field beans sauce and small garlic bruschetta
Pasta Casereccia con ragú Antico di maiale nero Pugliese
con Pecorino invecchiato
Casereccia pasta with ragout of black Apulian pork
Filetto di Orata al Forno alla Tarantina
con Finocchietto e origano selvatico
Filet of gilthead from the oven in Taranto style
with fennel and wild oregano
Crostatina di Fichi e Ricotta di Bufala
con Gelato alle Mandorle
Short crust tartlets with fig mousse and buffalo ricotta
Osterie:

Osteria Perbacco Bari
Falsopepe Massafrá Taranto
Osteria Perbacco Bari
Canederli with bacon an butter
Just in time for the sweet chestnut season, we reach our next destination, the Trentino province. For centuries there was an abyss between the quality of food eaten by the poor masses and that consumed by the rich in this region. In the countryside, pellagra was widespread as the result of a diet poor in vitamins.
Farmers lived solely on polenta made from maize, potato or buckwheat, accompanied by potatoes. In the summer, this polenta was eaten together with stewed wild pears, with melted bacon fat, with swede, or simply on its own. During the winter months – and if times were good– day in, day out polenta was eaten with sauerkraut made from cavolo cappuccio (cabbage), which has become popular today. Cabbage was preserved over the winter months by being cut into thin strips and being put in a wooden barrel, arranged in alternating layers of coarse-grained salt, cumin and juniper berries, then left to macerate for a minimum of two months. Polenta, cabbage, bacon, minestrone and a little homemade cheese or butter were the staple dishes that – if available – fed the people of this country, without any modifications, enhancements or variations, since any other products such as cheese, eggs or mushrooms were sold for a few lira that were indispensable for survival.
In contrast, the reality at the courts of the rich prelates, the prince-bishops and the powerful men of this country, was a different story; these people primarily ate meat from the animals of the Alps.
Trentino cuisine experienced its greatest brilliance during the long years of the Council of Trent. During this period, there was a large influx of various gastronomic influences from all over the world. Even today, the 'Pasticcio di Maccheroni' (a type of 'macaroni pie') is a dish for grand occasions, probably originally from the court of the city of Ferrara. Game was certainly the most luxurious trophy for the food for the rich banquets. For centuries, both fowl and game were hunted in the highlands of the Trentino, where there was an abundance of them. Woodland animals such as fallow deer, chamois and roe deer were often grilled on coals or prepared in savoury pies mixed with butter, milk and cheese, as indicated by an old recipe for 'cosciotto di caccia' (leg of game).
Menu -
Trentino - Alto Adige
Crema di Porcini con Ragout di Capriolo
Porcino cream soup with venison ragout
Gnocchetti Tirolesi al "Graukäse" con fonduta di Speck
Tyrolean gnocchi with "Graukäse" and melted bacon
Sella di Maiale montano con Crauti al Gewürztraminer
Polenta arrostita e salsa alla Birra scura
Mountain pork loin on sauerkraut in Gewürztraminer
Roasted polenta and dark beer sauce
Canederli dolci alle albicocche con Gelato al Brandy
Sweet apricot gnocchi with brandy ice cream
Osterie:

Antica Osteria il Vò, Trento
Osteria 2 Camini, Baselga di Piné
Ostaria del Filò, Smarano
La Stube del Cervo, Lavarone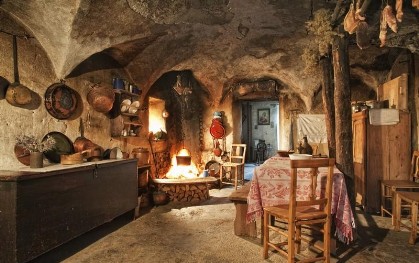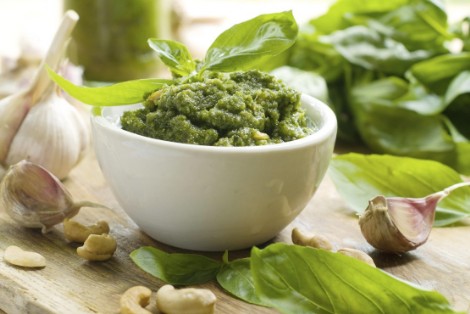 pesto alla genovese
The 2nd leg of our journey takesus to the Ligurian coast.

Authentic Ligurian cuisine began to develop after the 18th century. Relatively free of the considerable French influence, it manages to retain its own unique Mediterranean character.
Liguria is the smallest region in Italy and has an extremely high population density. For this reason too, Ligurian cuisine is very frugal and simple, using only edible ingredients provided by the earth, the sea and the labour of local people. The use of wild plants is widespread, which grow in abundance due to the plentiful rain: Even today, borage (herb native to the Mediterranean) replaces spinach in many regions when preparing the filling for tortelli and in the famous torta pasqualina. The latter is a savoury pie made from puff pastry with a herb filling (chard, spinach, borage) and is a traditional Easter dish (hence the name torta pasqualina, meaning "Easter cake"), probably because in the spring, the fields and vegetable gardens offer a huge variety of vegetables.
Fillings have always characterised this type of cuisine. They consist of relatively meagre, but intensely flavoursome ingredients: The vegetables are mixed with aromatic herbs, cheese, eggs, pine nut kernels, pistachios etc. The aromatic herbs mainly comprise basil. Ligurian basil has small leaves, is as abundant as it is fragrant, and has a range of uses. Amongst these, a worldwide favourite today is still pesto alla genovese. The name originates from the process of crushing the basil, pine nut kernels, garlic and mature cheese together in stone mortars (pestare is the Italian word for "to crush").
Muscoli ripieni e gratinati su insalata mista
Filled mussels au gratin with salad
Trofiette con Rucola, Pomodori semisecchi,
Olive Taggiasche, Pinoli e giovane Pecorino
Trofiette noodles with rocket salad, pine nuts, semi-dried tomatoes,
Taggiasca olives and young Pecorino cheese
Coscia di Coniglio al Forno su cassoletta die Carciofi e Patate

Rabbit joint from the oven on artichoke-potato cassoulet
Pesche ripiene con gelato all'amaretto
Vineyard peach au gratin with amaretto ice cream
Osterie:

Osteria del Porto Antico, Castel Vittorio
Antica Osteria del Gaia, Genova
Osteria del Cannon d'Oro, Badalucco
Osteria dell'Acquasanta, Mele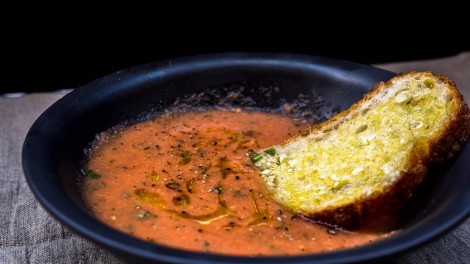 Pappa al Pomodoro
We will begin with the osterie of the Etruscan coast in Tuscany, through which we hope to show you the big picture of tradition and diverse flavours. Get ready for a completely unconventional Cucina Italiana.
The true ancestors of the Tuscan cuisine were the Etruscans, who together with the Romans enjoyed a reputation for great drinkers and lovers of culinary delights. Some Roman writers counted these habits amongst the reasons for their downfall.
The country of Etruria was highly fruitful and profitable: Judging from reports both from archaeological discoveries and from Roman texts, fruit orchards, legumes and cereals were cultivated so that later the country would be in the position to provide Rome with wheat in the difficult years of famine.
The Etruscan cuisine is based primarily on emmer and its soup was widespread throughout the social classes. Just as fundamental was the use of legumes such as lentils, chickpeas and broad beans. However, the faunistic remains that we see today also testify to the consumption of beef, lamb and pork as well as game, primarily from deer and wild boar. The meat was roasted on a triangular iron construction or cooked in large bronze boilers. It was naturally reserved for the wealthy classes and usually served at banquets, which were regular ceremonies performed to affirm one's status. In view of the discoveries of fishhooks and nets, we can presume that fish were also included at these banquets. However, this type of food was less widespread in comparison to meat, as its availability was considerably more limited.
Menu -
Etruscan Coast - Tuscany
Calamari in Zimino
Calamaretti on savoury spinach
Pappa al Pomodoro con Nepitella
Tuscan bread soup with mint
or
Papardelle al Ragú di Cinghiale

Papardelle noodles with boar ragout
Coscia di Faraona al Forno con Cipolle in agrodolce
Guinea fowl joint from the oven with sweet and sour onions
Panna Cotta al Mosto e uva alla Grappa
Panna cotta with must and grapes in grappa
Osterie:
Il Caminetto, Suvereto Livorno
Osteria del Ghiotto, Canneto
Le Bagatelle, Marina di Cecina